Platform MEETING15
Your best place for all

hybrid events
The MEETING15 platform allows you to build and implement the most advanced events both in the real and virtual world. Thanks to our platform, organizers and participants of events gained unprecedented opportunities. MEETING15 has become the most desirable event platform in the Universe.
Live streaming
You can invite thousands of people for your events and offer them unique television, video on demand, time shifting, limited content access and other features, so in fact your own broadcasting and Video on Demand channel in one platform.
Virtual voting
Organization of general meetings with the use of remote access for participants for commercial companies, chambers of commerce, agencies, foundations, cooperatives and other decision-making entities using the voting process.
Mehr >
Spiele
Our games increase participants attention, knowledge, team spirit, happiness. The library of games is growing every day.
Interactions
Question to speakers, Q&A, surveys and polls, so complete events interactive solution.
Verfügbarkeit
Auf Ihrem Telefon, Tablet, Laptop, PC, Fernseher, Spielekonsole. Sie benötigen lediglich einen Internetzugang und ein Gerät mit einem Webbrowser.
Benachrichtigungen
Direct to screen, sms or e-mail. Various methods of communication with an event participant.
Networking
Effective 1:1 networking to sustain or build new relationships.
Fairs and exhibitions
Light and attractive virtual presentation of the offer.
Tickets
Super easy and flexible sale of tickets for the event.
Berichterstattung
Platform offers all possible, needed reports online.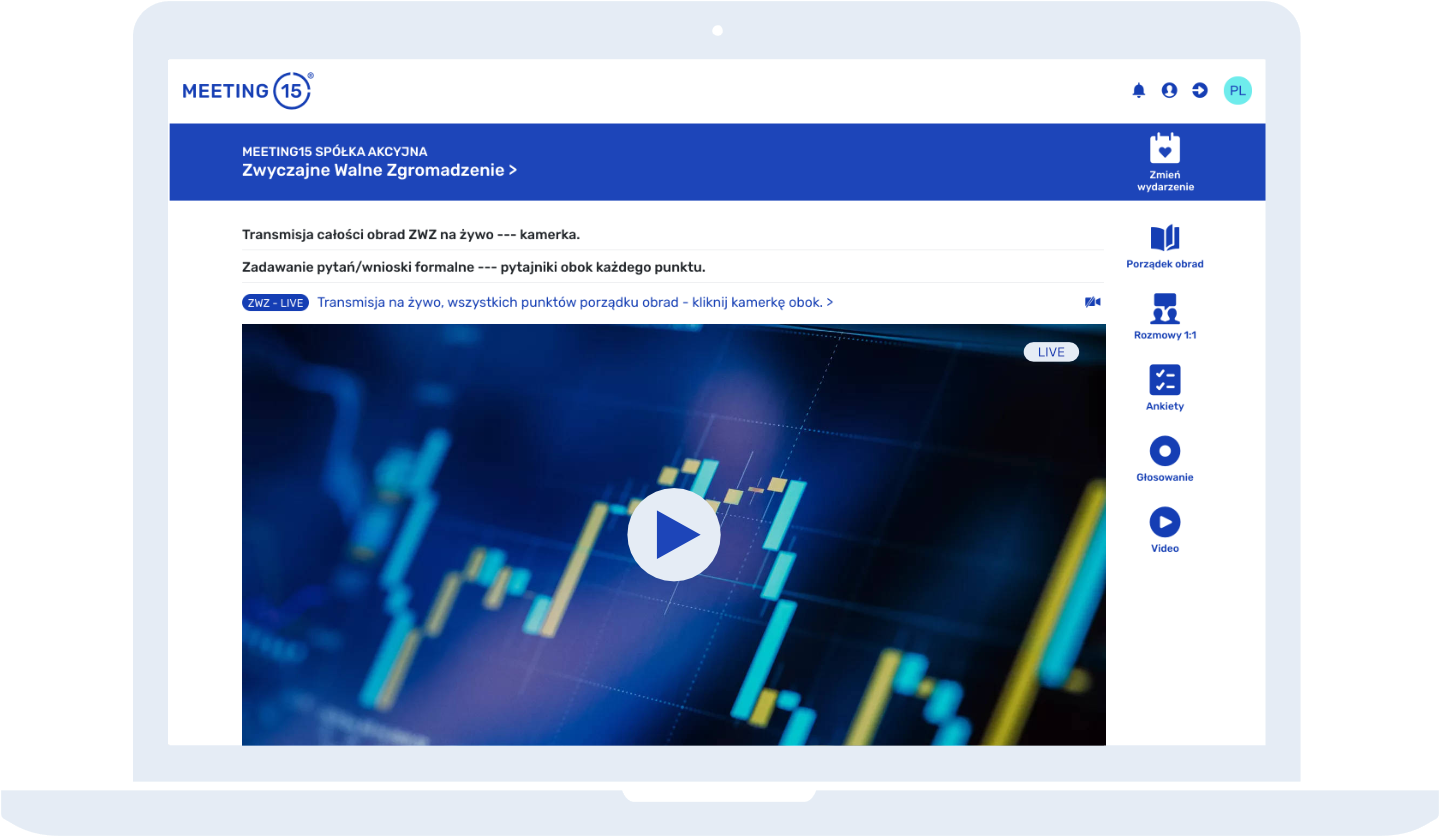 Ereignisse jetzt
12.08.2020 Zwyczajne Walne Zgromadzenie
18.08.2020 18-08-2020 - Warsztaty: Walne Zgromadzenia z wykor...
Digital partners
User experience, organizer's trust - these are our values, so if you organize a very advanced event with live streaming, we recommend our most experienced partners.
Free for users
MEETING15 is free of charge for users. Conference organizer pays for this service. If you're an organizer then you need MEETING15.